PC Networks Inc, established in 2002, is a company that puts the customer first. Always innovators, we have come up with more ways to bring productivity and innovation to your business computing environment.
Find out what is going on with the ENTERTAINMENT side of the company go to WWW.WICKEDHOME.COM
Have a retail store, doctors office, restaurant, or any of a hundred different establishments? Digital Signage is the ability to put your message, with graphics, animation, and sound for your customers and employees. We can send ads for your products and services, events, news, weather and steaming media to your signage displays, setup for day, time, and be remotely updated. We can even sychronize your display information with your website.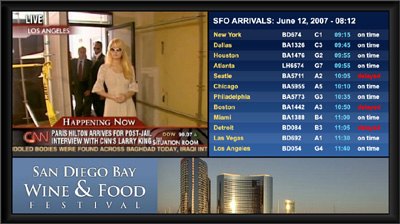 We are creating in house solutions to further the capabilities of your digital signage needs. What do you expect from a computer manufacturer, this way, no middle man and lower cost to you.
We have a full turnkey solution for your business, from the monitors, computers, software, programming and maintenance.
COMPUTERS
Unlike other Computer Manufacturers/IT Services company, we have used or are using all the higher end software products used by today's professionals. Software such as AutoCAD, Maya, 3dsMax, and Adobe Premier. Because we know what it takes to run these programs, we have the inside line on what will work, depending on the software, instead of making your software work with your generic computer.
Check them out at our business systems section
HARDWARE
We have 30 years of experience in computers, servers, and networking and have supported offices from 2 persons to over a thousand. We are there to support you.
In partnership with manufacturers like Equus, AMD, Antec, Supermicro, and Microsoft we have developed a full line of stand alone and rack mounted server packages for your expanding business needs, while keeping to a strict Green policy of power saving hard drives, Plus80 Power Supplies, energy saving processors and the newest Windows Server Operating systems providing extended electrical savings.
SERVICES
PC Networks is not all about hardware though. We provide a wide range of service and support options for small to medium businesses or the average consumer. From computer repair to cabling to network setup to website design and email setup, we can do as much or as little as you want us to.
We can be there to provide full support from the desktop to the Internet, both onsite and remotely, or we can be used for assisting in your latest IT product or roll out or to give your IT manager or staff a break for vacation without losing that support.